Take your dementia clients into nature
When you are working to support the well-being of your clients - families, adults from all backgrounds with different vulnerabilities and needs, nature-based work (green Care or green intervention programmes) may offer you many previously undiscovered opportunities. It may also benefit you as a worker.  
All your training is likely to have taken place within four walls, understandably it's a little daunting to move your practice to the outdoors!  
What we know is that it's hard to imagine how working outdoors may work in practice, particularly with vulnerable groups like dementia clients. Visiting a project really helps this process and following this up with a partnership meeting is really helpful. Here you can look carefully at what each partner is contributing and what the perceived risks are on both sides.  
Integrating key practical nature-based skills, alongside creating a safe emotional container are two basic ingredients of a successful programme. After only 3 woodland-based sessions, Dementia participants commented: 
"It has given us a purpose and a routine. (After lockdown) I didn't want to go out of the house. It has given me a purpose rather than be fearful about going out."
During our morning gratitude one carer said that she had been feeling very flat this morning, but hearing the bird song made her feel "if they have something to sing about, then so do I."
"It helps with my anxiety. Talking helps."
(September 2020 Dementia Well-being Programme)
We need to 'Think Outside' and take our practice to nature. This may be a small garden, a park, or woodland. At the Outdoor Teacher, we are offering health professionals our '
Forest School Activities
' online training course, that trains practitioners to be safe and competent in delivering core practical skills and ideas that can be used to support social interaction, provide the benefits of nature connection and improve client and practitioner's general state of happiness!
The Greening Dementia Report 2012


The Greening Dementia Report of 2012 outlined the key findings as: 
1. Social interaction and access to the outdoors and nature is important for people living with dementia and that these activities have an important role in their quality of life.
2. Evidence of benefits for people living with dementia from access to the natural environment is limited and often qualitative. However, general findings can be grouped into the following:
Improved emotional state: reduced stress, agitation, anger, apathy and depression.
Improved physical health: skin health, fitness, sleeping patterns, eating patterns.
Improved verbal expression
Improved memory and attention.
Improved awareness: multi-sensory engagement and joy
Improved sense of well-being, independence, self-esteem and control.
Improved social interaction and a sense of belonging.
Since 2004 I have been working across the National Health System with pioneering team leaders and what I call, 'Natural Allies' from different departments – The Child and Adolescent Mental Health Services (CAMHS), Adoption CAMHS, Look after Children Services, Family Intensive Support Services-Learning Disability CAMHS, more recently with the Early Intervention for Psychosis team and Adult Specialist Care services with Dementia Clients. 
The 'Greening of Services' is taking place. Let's not underestimate the power of nature for health and well-being. There is an abundance of evidence showing us the resounding benefits. 
There is strong and consistent evidence also for the mental health and wellbeing benefits arising from exposure to natural environments, including reductions in stress, fatigue, anxiety and depression, together with evidence that these benefits may be most significant for marginalised groups.
Socioeconomic inequality in mental wellbeing has been shown to be 40% narrower among those who report good access to green/recreational areas, compared with those with poorer access. Together, we can make a difference.
Marina Robb
References:
Luengo-Fernandez, Leal, & Gray, 2010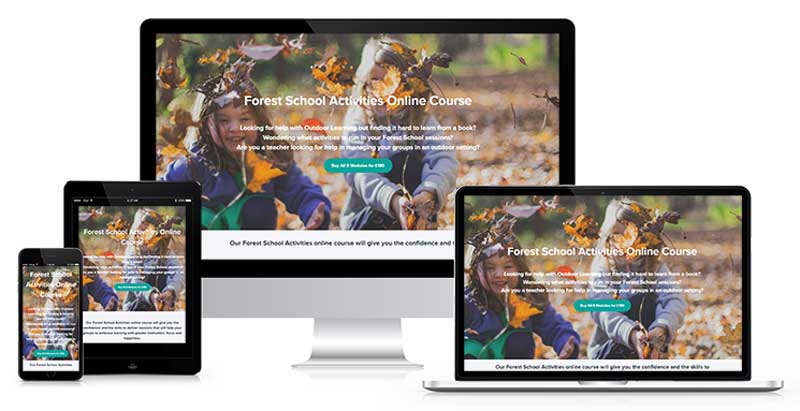 The Forest School Activities Training
Our foundation training course comes with lifetime access to over 100 step by step inspirational videos and resources. Designed for teachers and practitioners. Single modules are £49.99 +vat or save £100 when you buy the 8 module bundle