Authors: Jon Cree & Marina Robb
Publisher: Routledge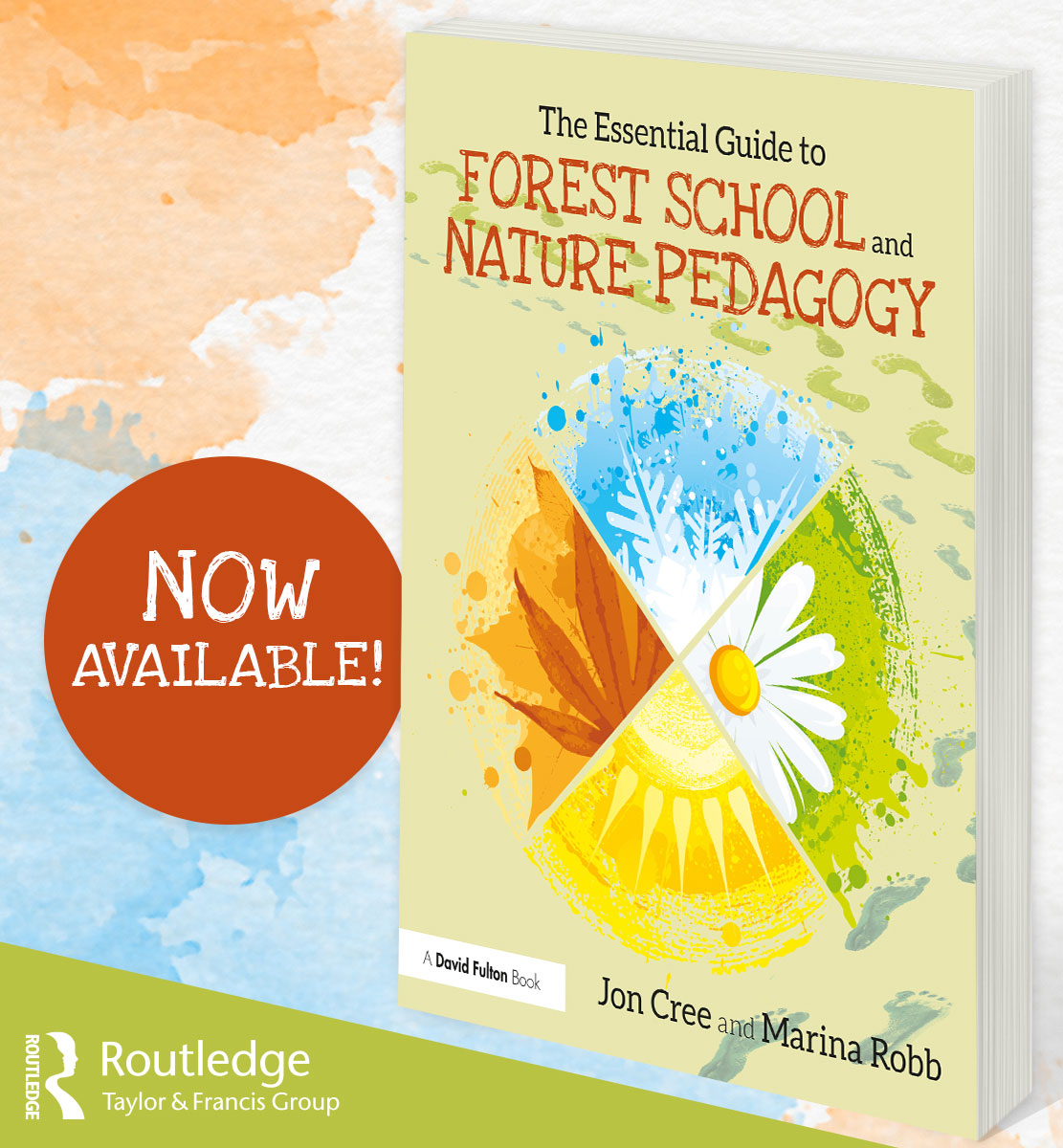 The Essential Guide to Forest School and Nature Pedagogy
Book
£22.99 Including UK Shipping
This book is a complete guide to Forest School provision and Nature Pedagogy and it examines the models, methods, worldviews and values that underpin teaching in nature.
Jon Cree and Marina Robb show how a robust Nature Pedagogy can support learning, behaviour, and physical and emotional wellbeing, and, importantly, a deeper relationship with the natural world. They offer an overview of what a Forest School programme could look like through the year.
The Essential Guide to Forest School and Nature Pedagogy provides 'real-life' examples from a variety of contexts, sample session plans and detailed guidance on using language, crafting and working with the natural world. 
Guiding practitioners through planning for a programme, including taking care of a woodland site and preparing all the essential policies and procedures for working with groups and nature, this book is written by dedicated Forest School and nature education experts and is essential reading for settings, schools, youth groups, families and anyone working with children and young people.
Authors: Marina Robb, Victoria Mew & Anna Richardson
Publisher: Green Books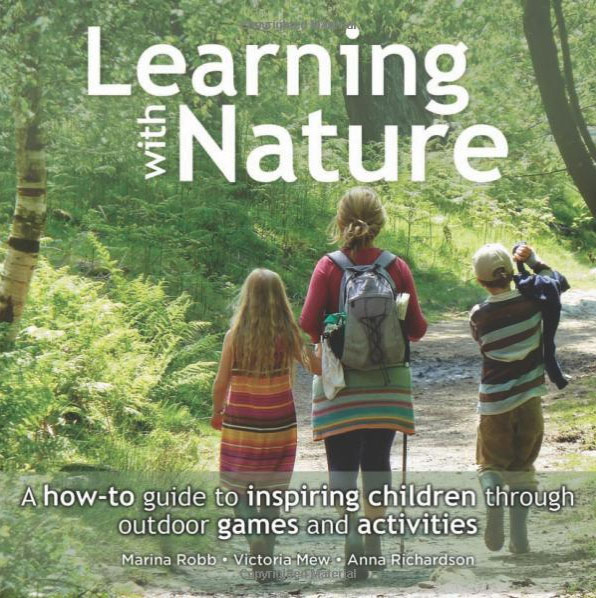 Learning with Nature Book
£16 Including UK Shipping
A how-to guide to inspiring children through outdoor games and activities with a foreword by Chris Packham
Learning with Nature is full of fun activities and games to get your children outdoors, to explore, have fun, make things and learn about nature and help them grow up happy and healthy. A how-to guide to inspiring children through outdoor games and activities.
A beautifully designed book full of creative ideas and information to help children reconnect with nature, with over 100 games and activities for parents, teachers, and youth leaders to get children learning outside.
Online Course Gift Vouchers
Vouchers must be purchased as single transactions as we are unable to 'add to basket.' If you are looking to buy more than one voucher you will need to click on the 'Pay with Credit Card' button for each course.
Once payment has been received you will receive an email within 1 working day with a printable gift voucher and instructions.


Buy our foundation course 'The Forest School Activities Online Training' as a gift.
This includes all 8 modules with lifetime access to over 100 videos and resources.


The cost is £195 (saving £45 by buying all 8 modules) or you can buy individual modules from the course for £20 or £30 each.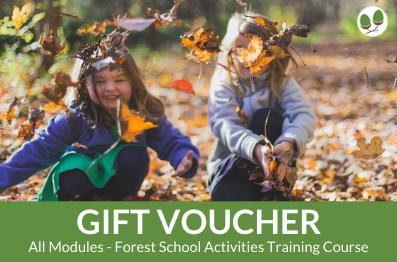 Forest School Activities Online Training

Gift Voucher £195
Our Forest School Activities Online Training will give you the confidence and the skills to deliver sessions that will help your groups to enhance their well being and learning with greater intrinsic motivation.
Our step by step video tutorials will provide you with a bumper tool kit full of tried and tested activities with health and safety advice.
Individual Modules for £20 or £30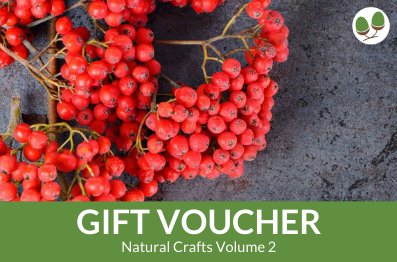 Natural Crafts Volume 2 Gift Voucher £20
Crafting is a great way for your group to enjoy working creatively and often after some running around games!
After completing this module you will be able to make your own charcoal and charcloth, pick and make cordage from nettles, make a necklace from rowan berries and have lots of fun with clay and other natural materials!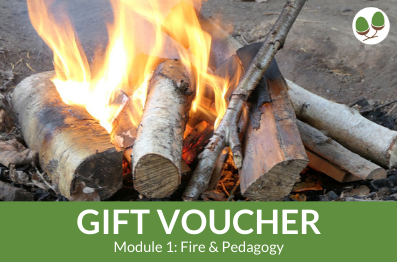 Fire & Pedagogy Gift Voucher £30
If you would like to feel more confident at lighting fires and working safely with fire then this course is for you.
You will learn different methods of fire lighting and show you how to safely get children involved in the process.
We will guide you through all the stages from setting up your space, gathering your firewood, extinguishing your fire and how to 'leave no trace' when you finish.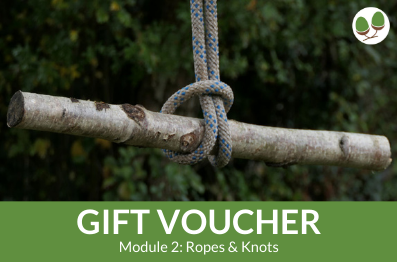 Ropes & Knots Gift Voucher £30
Learn how to safely work with ropes and knots and get all the skills you need to run a range of activities.
By the end of this course you will know exactly how to put up a swing or hang up a hammock and how to check if the tree is suitable for the activity. You will also learn how to put up a rope bridge and how to make a rope ladder.
There are many alternative options that can be set up in a school or tarmac play area.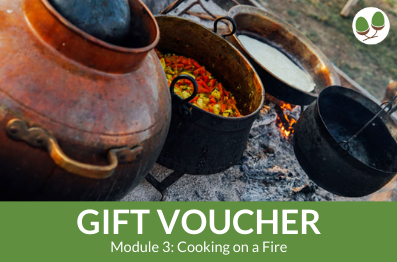 Cooking on a Fire Gift Voucher £30
Cooking on a fire is at the heart of our practice and you will be provided with step by step instructions to recreate our favourite recipes. Pizza in a pan, popcorn over the flames, chocolate bananas and flapjacks cooked in leaves!
We will guide you through the tools and natural materials we use, cover the food hygiene aspects and give you an overview of health and safety and 'Green light' plants.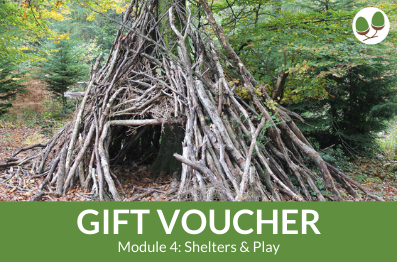 Shelters & Play Gift Voucher £30
Knowing how to put up a group shelter is essential when working in the outdoors and in this module, you will learn how to do this. We will also teach you a range of uses for the small tarpaulins including putting up a mini shelter that can be used to play under or keep bags dry.
You'll also learn how to make a debris shelter from sticks for play activities, and how upgrade this to make a rain proof shelter that is suitable for spending the night in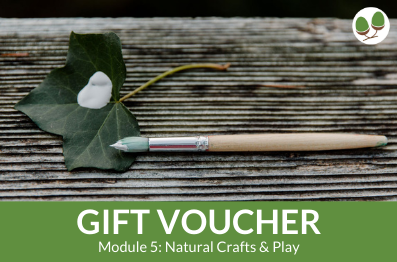 Natural Crafts & Play Gift Voucher £30
Crafting is so much fun and there are so many natural resources that can be used to make beautiful objects! This module has activities that use willow, leaves, bark, clay, cleavers & sticks. Make paint from leaves, hedgehogs from teasel, dreamcatchers, bird feeders and tree faces.
Enjoy endless opportunities to play and create using natural materials to relax, learn and connect through making things together.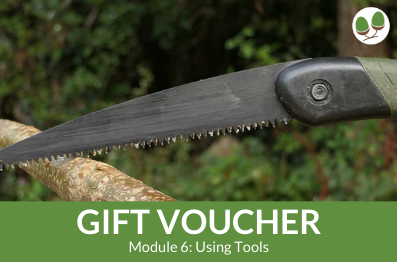 Using Tools Gift Voucher £30
Tools give children the opportunity to learn to be independent and self-reliant and a simple tool can help you and your group take crafting to another level.
We will guide you through all the safety precautions and teach you how to safely work with saws, knives, palm drills, bit and brace, hand drills, secateurs, loppers and hammers! It gives you an insight into our basic tool kit. Gain confidence in using basic tools with different age groups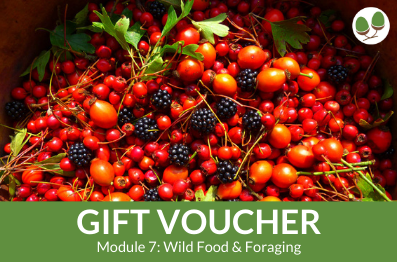 Wild Food & Foraging Gift Voucher £30
Foraging wild food from our hedgerows is something that everyone can do. You'll learn to educate your groups to know where things come from, to identify 'green light plants,' so you can gather wild food and make syrups, teas, pancakes & ointments from common hedgerow berries, elderflowers, nettles, cleavers and plantain.
You will learn to make natural medicines and understand which nutrients these plants can provide us.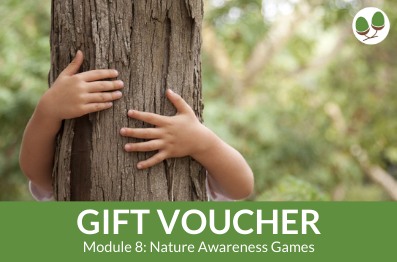 Nature Awareness Games Gift Voucher £30
Learn how to deliver games for all ages with clear instructions and video demonstrations.
Teach children to become aware of the nature around them, to walk silently like a fox or to cup their hands around their ears to listen like the deer. Encourage them to use all their senses through play to be alert for predators or prey.
Our games encourage an understanding of how things relate to, communicate with and consume each other!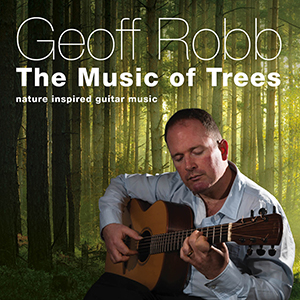 The Music of Trees CD & Download
The Outdoor Teacher's Co-Director Geoff Robb is also an award winning guitarist and his 2020 album 'The Music of Trees' features 10 relaxing solo guitar compositions written about trees.
Each CD includes a download code and a 12 page booklet.
The featured trees are: The Willow, The Linden, The Elm, The Hornbeam, The Ash, The Yew, The Silver Birch, The Scots Pine, The Cherry & The Holm Oak.
Listen online or purchase a download