Myth-Busting Guide


The Outdoor Teacher and the South Downs National Park have collaborated on an 'Outdoor Learning Myth Busting' guide to be sent to all the schools in the National Park area.
The aim is to help teachers and educators to understand what they can offer in an outdoor setting. Many teachers are already offering 'Forest School' type sessions and curriculum linked activities outdoors so we hope we can help those teachers who might be unsure about stepping outside the classroom.
What is Outdoor Learning?


Outdoor Learning is a broad term that includes discovery, experimentation, learning about and connecting to the natural world, and engaging in environmental and adventure activities. Outdoor Learning involves the transformation of knowledge, skills, attitudes and behaviours through direct engagement with the outdoor environment for the personal and social benefit of individuals, families, society and the planet. Purposeful experiences in the outdoors can be a catalyst for powerful and memorable learning. Definition from the Institute for Outdoor Learning.
Produced in collaboration between The Outdoor Teacher and The South Downs National Park, it highlights the many perceived barriers to using the outdoor environment and the simple realities.
Please feel free to download and distribute the leaflet and posters using the links below.
Common Myth No 1
"I need an additional qualification to teach pupils outside, either in the school grounds or the local area. It's a legal requirement!"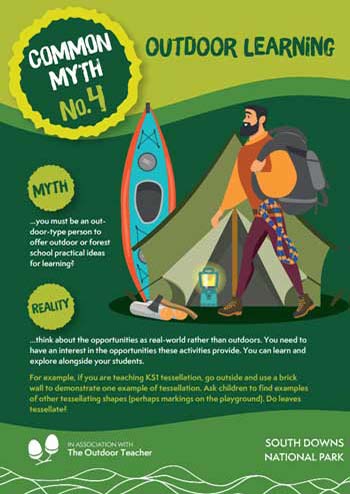 Common Myth No 4
"You must be an outdoor-type person to offer outdoor or forest school practical ideas for learning?"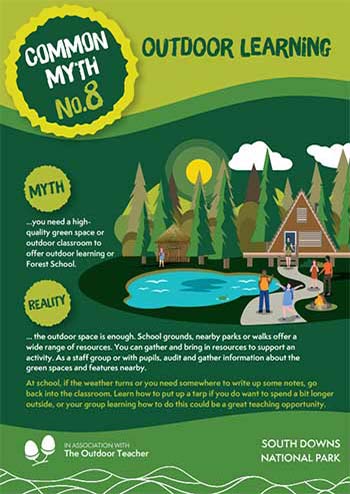 Common Myth No 8
"You need a high quality green space or outdoor classroom to offer outdoor learning or Forest School."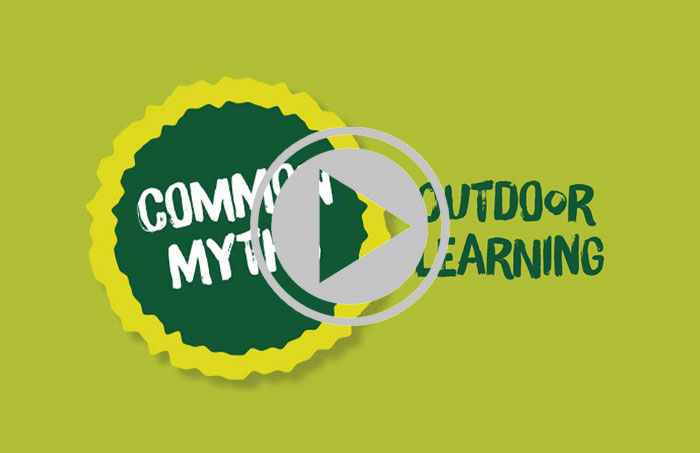 Watch a replay of our 'Outdoor Learning Myths' webinar
As teachers and practitioners, what qualifications, experience, understanding and knowledge do we really need to move our practice to the outdoors?​​​​​​​
Marina will go through a myth-busting guide to leave you with a better understanding of how you can take your groups into the natural world for learning.
​​​​​​​This session will explore common myths, and dive into common barriers and opportunities that exist within our education system.
The Forest School Activities Training
Our foundation training course comes with lifetime access to over 100 step by step inspirational videos and resources. Designed for teachers and practitioners. Single modules are £49.99 +vat or save £100 when you buy the 8 module bundle